I recently saw another discussion about the Fahrenheit vs. Celsius. It was of course on American site (since no one else even thinks about Fahrenheit) and was all about the superiority of Fahrenheit over Celsius. The whole discussion was as always inane and went back to the only argument that really matters - I grew up with it so it's more intuitive to use. It's the only one that can reasonably let us "determine comfort when we go outside", you know. It however helped me understand a fundamental difference in thinking that eluded me so far (it's been 5 years already - don't even know how that happened).
Look at pictures below. First is used by people defending Fahrenheit as superior. The hundred degree scale contains the temperatures that most people would encounter in their daily life with very cold and very hot outside of it so you'll know you are in special circumstance level. The liveable temperatures are inside it. Celsius - uselessly goes between mildly cold to dead (not really weather on Earth type of temperature). Logical, isn't it?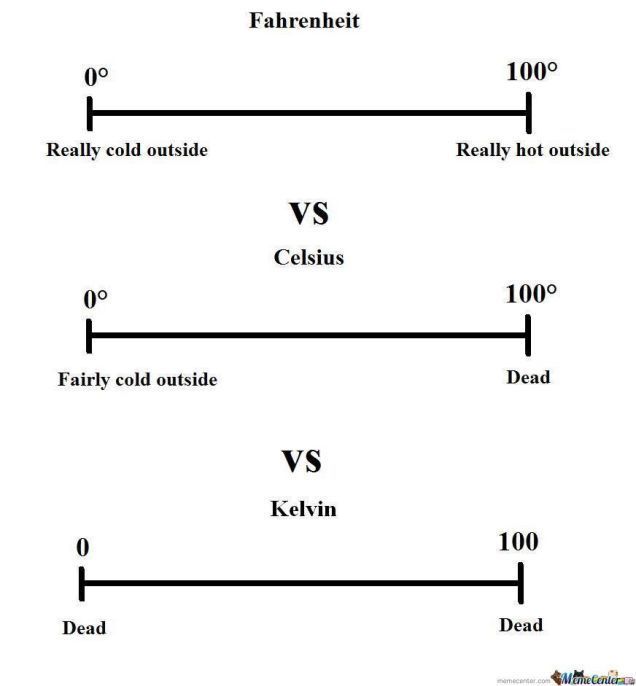 The thing is - no one thinks of weather or any everyday temperatures this way in Celsius. This closed between 0-100 system doesn't make any sense to anyone raised in Celsius. Sure we care about boiling water but not in weather sense. Instead Celsius is centred around 0
o
C - the temperature of freezing water. This has a lot of everyday repercussions as that is a difference between rain and snow and between ice and clear roads (but of course humidity, wind and air vs. ground temperature also plays a role) so you want to know if the temperatures will be in the plus or minus.

This is why most of us think of thermometers like this. I picked the one perfectly symmetrical and ending at 50
o
C but it can be -40 - +40 or -30 - +60 or -100 - +30 depending where you live on Earth. The point is the 0 is our switch point and then the scale is opened on both plus and minus side to go as far as you need in your corner of the world (despite humans having bias towards plus temp the record low is -94 and record high only 56). It is in a way symmetrical which is why I, raised in it, like to say to people that when I was living Poland to come to US it was -18C and when I arrived it was +18. Big temperature shock! Or that near Chicago you can have both -40 and +40 temperatures in one year because continental climate (cold winters, hot summers) while Europe has milder ones because ocean (warmer winter and colder summers).
Fahrenheit is closed of by 0
o
F and 100
o
F so, as I mentioned, it relates to unusual by going outside it's borders (or even how close to them you are). I went from 0
o
F to upper 60s - that's over half the scale. It was way below 0
o
F - that's how horribly cold it was! And then we went into triple digits and were dying from heatwave!
It's a completely different way of thinking that's not easily translatable no matter how well you learn the corresponding temperatures.
And, of course, very cold and very hot is often a personal thing. I know people who think +30
o
C is when it starts being nice while I find it very hot. And +20
o
C is nice but in Hong Kong that's cold weather while people in Siberia treat -20
o
C as a nice warm winter day.
I have similar thought about other measurements but maybe some other time - it's getting late.